Back to Events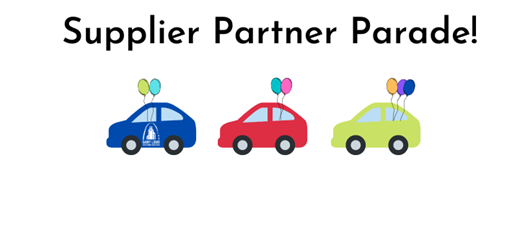 Supplier Partner Parade!
Wednesday, June 24, 2020
* Registration open until 6/23/20 at 2:00 PM ()
Event Details
We hope you're doing well! With everything that is going on during these unprecedented times, the Product & Service Council wanted to come up with a way for our Supplier Partner embers to show support to our Owner/Manager/On- Site members.
We have organized a Supplier Parade on Wednesday June 24
th
and would love for you to be a part of it! We plan on doing several of these over the next few months covering different areas each time, so if you can't make this one we hope you can make the next.
We will meet in the parking lot of Party City at 9612 Olive Blvd, 63132 at 9:45 am. Our route will include the 16 properties listed below. This will allow you the opportunity to promote your company in your vehicle decorated with balloons and signs. We will contact each property prior to the parade and let them know the approximate time we will be driving through.
We will not be allowed to go into the properties but wanted to drive by to show our support and will drop off treats for their staff which will include a flyer with the company logo of each participating vendor. The cost will be $25 per car which will cover the cost of goodies.
If you are interested in participating please go to the link below to register.
We are limiting this parade to the first 25 companies that register and pay the $25.00 fee.
IMPORTANT REQUEST: Now is the time to complete your company profile on our website. It's a great (TOTALLY FREE) avenue for you to always market your company to the property management members. Here is a sample of what you can do to make your profile informative! Click here Be sure to add your company logo there as well. ake sure to forward your logo to the SLAA office at info@slaa.org so it is included on the flyer.
This will be a great way for all of us to get together as a team to show our support to our property management peeps.
We look forward to your participation!
Please feel free to reach out to Deb Done ddone@apartment-search. com or Jenn Heuer jheuer@bgmultifamily.com should you have any questions.
Bonhomme Village

Warson Village

Vue Creve Coeur

Vanguard Heights

Beau Jardin

Oxford Hills

Westchase

Waterford Downs

Arlington Apartment Homes

ReNew Creve Coeur

Kings Landing

Waterfront Crossing

Cove West

Whispering Hils

Vicino on the Lake

Boulder Springs
For More Information:
Deb Done
Licensed Real Estate Broker
President/CEO
Apartment Search, Inc.
(314)821-4999