Back to Events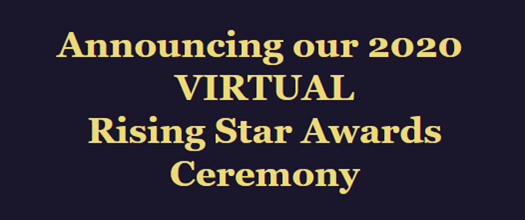 Rising Star VIRTUAL Ceremony - COMING SOON!!
Friday, August 7, 2020
Event Details
Details & Registration Coming Soon!!
Join us Friday, August 7th @ 2:30 pm
After much consideration and discussion, the Board of Directors and members of the Rising Star committee voted to host this year's banquet in a virtual setting.
Do not worry! Plans are underway to live stream a spectacular event to nominees, sponsors and guests. We encourage "EVERYONE" to coordinate watch parties with
their companies or communities!
How will it work?
Our pre-party will begin at 2:30 pm, music will be provided by Let's Celebrate.
Beginning at 3:00 pm, nominees will be honored and winners will be announced.
The following week committee members and sponsors will be tasked with bringing each winner their award
It will be an event to remember!